Raleigh, North Carolina
A slender young man dressed in khakis, button down shirt, and a Duke vest sat across from an older, seasoned gentleman who wore plain jeans and a tucked in Duke polo that perfectly announced his spherical belly. The young man sipped his craft cocktail and leaped into an energetic pitch."The second law of thermodynamics states that the entropy of any isolated system always increases, so with that knowledge we have created a system that harness [insert more science terms and Eureka moments]. We already have a large pharmaceutical soft circled to invest. We can get you in at a discount!" Surprise, this conversation was not overheard in a cafe in San Francisco but rather a basement cocktail bar in downtown Raleigh.
Raleigh, North Carolina. One of the three cities that make up the research triangle park. A geographic area within N.C. that encompasses over 200 companies and over 50,000 people specializing in biotech, telecommunications, and variety of other sciences. Raleigh has become home to some of the leading technologies companies such as Red Hat, IBM, and SAS, to name a few. The access to technology and talent has also welcomed a batch of new technology upstarts. All this movement has spurred an exciting food and drinking culture.
So business has brought you to Raleigh. First things first, if you need caffeine, a place to work, and a mean breakfast sandwich, head to Jubala Coffee underneath the Aloft Hotel. The space offers excellent natural light, wifi, outlets and an outdoor patio. We ordered a light roast pour over and a sweet buttermilk biscuit bacon, egg and cheese sandwich. Jubala serves up Counter Culture beans in customized Notneutral stemware.
Once the sun sets, head down to Fayetteville St in the downtown area to a venue called the Foundation Cocktail Bar. Because this is North Carolina and the cocktail bar does not have a food program you have to sign up and pay $1 to enter (it's a pain in the ass). Take a seat at the wooden bar and let the knowledgeable guys behind the bar take care of you. They have a great selection of whiskeys and bourbons. We thoroughly enjoyed their old fashion, but their featured cocktail "The Lincolns Kick" containing Virgin Bourbon, Jack Daniel's, pecan orgeat, lemon, and a charred marshmallow was a special treat.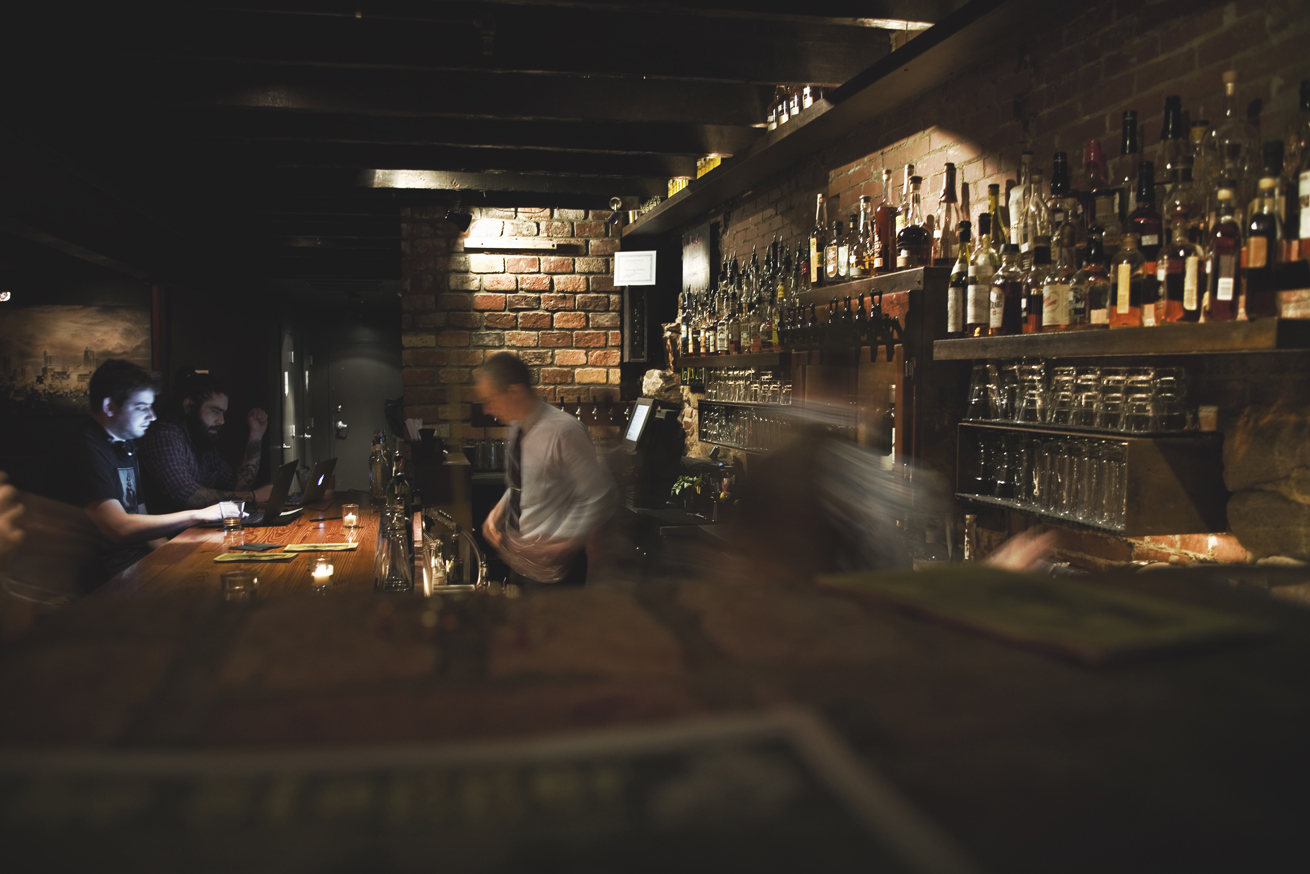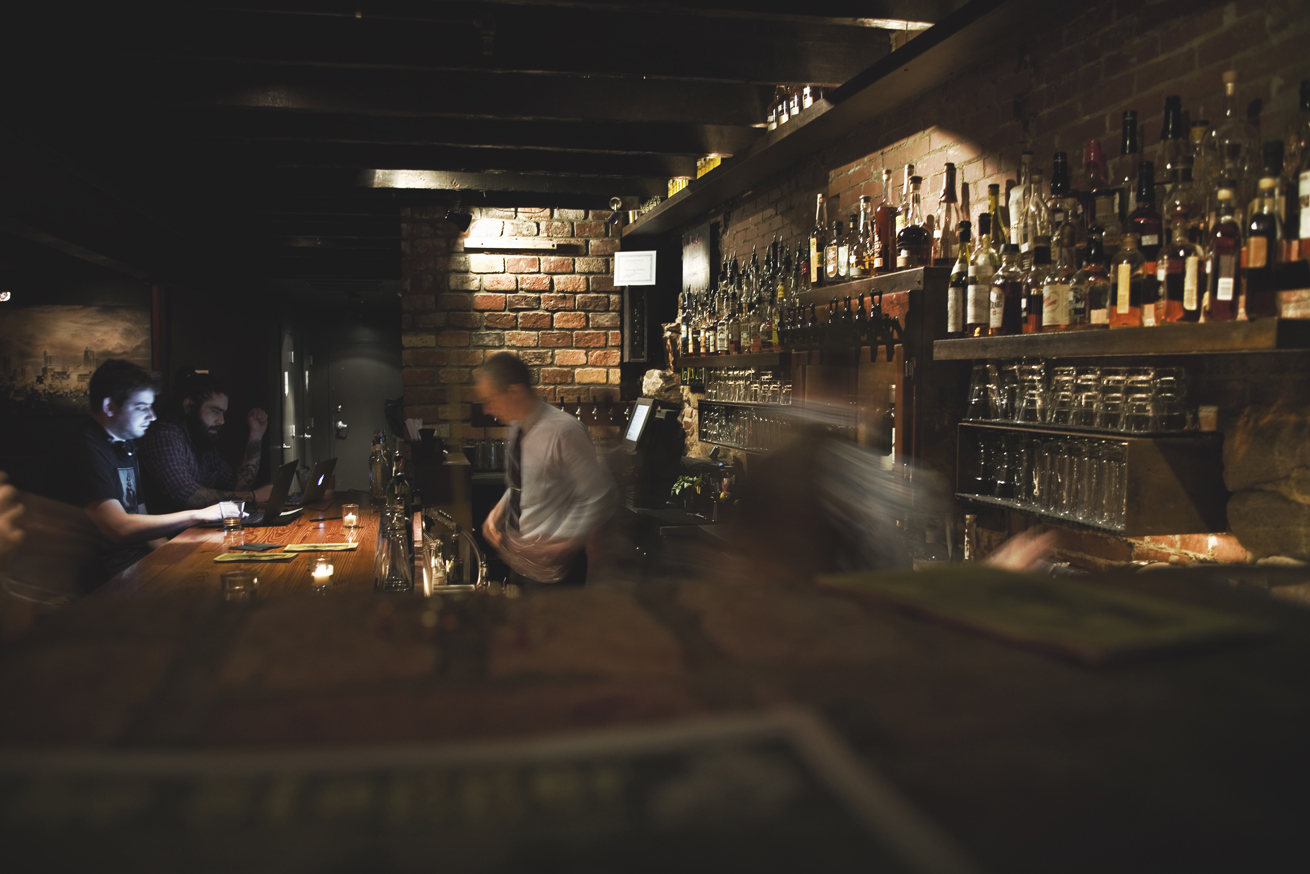 After partaking in a healthy number of the Foundation's cocktails, head over to Bida Manda for dinner. Owners Vasana Nolintha and Vanvisa Nolintha started this restaurant in 2010 to serve Laotion inspired cuisine with a modern twist. The space is designed by the amazing In Situ Studio (same designers as Jubala) with trinkets from Laos, with wood accents originated from the NC mountains. Vasana just opened Brewery Bhavana, a concept which combines a flower shop, brewery, and restaurant. We recommend making reservations if traveling with more than two colleagues, as the bar is first come first serve. We had the spiced sausage, coconut sea bass and larb. To wash down the spice, we ordered a cold brew old fashion.
We booked on short notice and opted for Airbnb, a better option for price and flexibility. When we book for business trips, we try to only book with super hosts to ensure quality. Our property was amazing for the price ($80!) and had quaint little touches such as WSJ on check-in and both Amazon Fire stick + Google Chromecast.

As for hotels, Raleigh is in line to get a great variety of hotel options in the downtown area. However, at the moment there are not many unique options. If you are traveling between the triangle there is The Umstead which we highly recommend as a B&P hotel.It has a full spa (steam rooms!) and is ranked as a top hotel in the nation. If you are in downtown then go with The Aloft Hotel. It has modern rooms, a gym, and more importantly Jubala is located on the bottom of the building.
Photo Credit:
Cover Photo: visitRaleigh Drone Bida Manda: Atlantic Archives / Richard Leo Johnson Peter Taylor Photography Foundation Cocktail Bar: Luke Rayson Photography The Umstead: The Umstead Hotel
About Todd Olson
Todd Olson, Founder and CEO of Pendo. Pendo compiles and analyzes data that product managers need to make the right decisions about the development of software. It helps those product managers make sure customers actually use the features developers spend the time to create. Todd has raised over $11 million to help his customers create more engaging products. Todd recently served as Vice President of Products at Rally Software Development Corp. Mr. Olson led the evolution of Rally's proven Agile ALM platform for enabling software and product-driven enterprises through its public offering. He co-founded 6th Sense Analytics, Inc., served as its President and Chief Technology Officer and led the fundraising of $7 million in seed capital. Mr. Olson was Chief Scientist of the Together business unit of Borland Software that he joined as a result of the successful acquisition of TogetherSoft. Mr. Olson co-founded Cerebellum Software Inc. and served as its Chief Technology Officer. He frequently speaks at leading industry events on the topics of Agile software development, Product Management, and entrepreneurship. He has a Bachelor of Science degree from Carnegie Mellon University in Electrical and Computer Engineering and is a graduate of its Entrepreneurial Management program.
Q. Tell me about Pendo?
Pendo extends your product to capture all user behavior, gather feedback, and provide contextual help. There are a lot of products in the market that help collect feedback such as Uservoice which is another Raleigh/SF based company. There are a host of solutions that focus on collating, collecting and synthesizing feedback directly from end customers, salespeople and all sorts of stakeholders. At Pendo, our vision is to help answer the question "what do people want in their product," and to ultimately help filter the noise bias vs actual behavioral engagement. I was head of product of a publicly traded SaaS biz, and would hear all sorts of anecdotal feedback (both positive and negative) on a product. However, when we actually saw the data the results were quite the opposite. At Pendo we focus on using quantitative information by collecting very rich analytics on what people are doing and what they aren't doing. If the first problem is understanding, the second is how do you drive engagement and encourage behavior? We create features that are specific to certain sets of users to contextualize their experience based on role and persona. A new user who is an admin will have a different on-boarding experience than a customer returning the the system after 3 months.
Q. Is Data always right?
I like the quote said by the founder of Netscape, Jim Barksdale "If we have data, let's look at data. If all we have are opinions, let's go with mine." That pretty much sums up my views around data. Data is just one piece of the pie when making a decision. It would be irresponsible to solely rely on quantitative data to make any decision.
Q. What do you think about Intercom?
Intercom is fantastic. They are aiming at being the enterprise communication platform of the future. We often get compared to them as we both do in-app messaging, however the use cases are different. Pendo is focused on automated campaigns. While Intercom is focused on direct communication to teams. I see Intercom competing more and more with the likes of with Desk and Zendesk.
Todd's Raleigh Recommendations
Coffee: Morning Exchange, Jubala, Videri ( for their mocha!)
Restaurants: Poole's Diner, Crawford & Son's, Bida Manda
Cocktails: Foundation Bar, Fox's Liquor Bar